Papers and articles with this keyword
- 1 February 2005
The author examines student needs in preparing for the year abroad, looking at the relationship between metacognitive learning strategies and linguistic development during the year abroad, and how students' subjectivities relate to their linguistic development. The author summarises her findings by producing a list of steps that would ideally be included in a year abroad preparation course.
- 12 January 2005
This paper reports on the introduction of accredited portfolios into an ab initio French language course at the University of Stirling. These were introduced to help students progress from a teacher-led learning environment into one in which a more autonomous approach was required. Student feedback was mainly positive, whilst a slight improvement in grades was also reported. However, some areas of difficulty would benefit from further development.
Dana Hanesová - 11 January 2005
The author starts her presentation with the historical background and current trends towards the application of the Common European Framework (CEF) in Slovak schools. Giving an example of an English course for Social Sciences, she then describes the specific phases of the application of the CEF.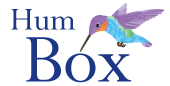 Humbox
The Humbox is a humanities teaching resource repository jointly managed by LLAS.