Web Guide (GPG)
Bilingualism / multilingualism
The approach to the topic will depend on the target audience. Students of Linguistics do not necessarily have an indepth knowledge of a foreign language, which can make it more difficult for them to understand what it means to be bilingual/multilingual. They may benefit from an approach which stresses the similarities between being bidialectal and bilingual. Students of Modern Languages are often better able to understand what it means to use two or more languages in daily life. With these students it is possible and preferable to study concrete examples of bilingual speech.
Grammatical categories, or grammar and semantics
The set of grammatical categories includes, among others, tense, aspect, mood, case. These are neglected in current Linguistics courses in the UK but are central in the grammars of natural languages. They connect grammar and semantics and play an essential role in the syntactic analysis of clauses and the semantic analysis of clauses and propositions. Their study leads to general issues such as the source of grammatical categories, the evolution of language, language and cognition, metaphor and first language acquisition.
Some issues on which linguists can agree
A list of 83 points on which linguists seem to agree and which are important for education. The list was compiled in 1980 but is currently (2002) being revised.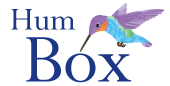 Humbox
The Humbox is a humanities teaching resource repository jointly managed by LLAS.